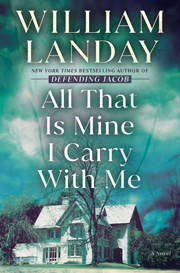 (continued from Tuesday)
On the belly of her right arm, I glimpsed her old tattoo, which I had forgotten. In small letters, now a little blurry, it read 'Omnia mea mecum porto,' Latin for "All that is mine I carry with me." She got this tattoo when we were just out of college, in the mid1980s, when she was feeling quite lost. This was before the current fad for tattoos had got going, and I hated it at the time, not because I disagreed with the sentiment (I do not) but because I hated to see Miranda deface such a lovely arm. It was like scribbling with a Sharpie on Michelangelo's 'David'. Now the tattoo struck me as quite modest. It was placed in such a way that only Miranda herself could read it comfortably: on the underside of her arm, in a single line of letters running from the middle of the forearm up to her elbow. It was like a little note that Miranda had written there just for herself.
She sat on her desk facing me.
"I was sorry to hear about your father."
"Were you really?"
"Well, no. I was sorry for you. Jeff said you're taking care of him."
"I am. It's complicated."
"I bet."
"Are you still writing, Phil? Where's the new book?"
"It's complicated."
"Why? Tell me."
"Nothing to write about."
"There's a whole world to write about."
"'Meh.' The world is such a mess right now. The whole novel thing— it feels trivial, telling little stories when everything is falling apart."
"Everything is always falling apart. We still need art."
"I know. It's just, I want to write something real, something complicated."
"So do it. Write something real. Write something complicated." She gave me a weary, mischievous smile. "Maybe I can help."
It was Miranda who first discovered her mother's absence, on Wednesday, November 12, 1975. She was about to turn eleven years old, a fifth grader. No shadow had fallen over her then. She was a curly-blond pixie, the sort of bright-faced child adults are drawn to.
She walked home from school that day carrying in her arms a bulging three-ring binder, a bulky math textbook, and a paperback novel, 'Sounder'. She wore her favorite teal miniskirt and the bone-white ribbed turtleneck that went with it, her "school clothes."
She went to the back door of her house and, clutching her books against her chest, she twisted to press the doorbell. No answer. Someone was always home to meet Miranda, usually her mother, but that day the house was dark.
She put her books neatly on the stoop, then tested the doorknob. Locked.
She fetched the spare key from the garage, where it was hidden in an empty flowerpot, unlocked the door, and immediately returned the key to its hiding place, as she had been taught to do.
Inside, she called, "I'm home!" When there was no answer, she went to the foot of the staircase and aimed her voice up toward the second floor: "I'm 'hooome'!" Still no answer.
She wandered through the first floor, up the stairs, checked every room. She called out, "Mom! Mom!" for a while, but the house was empty.
It did not occur to her to be frightened. Mom's pocketbook was in the front hall. She had probably just run out for a moment. Far from panicking, Miranda felt a little thrill of independence at having the house all to herself. She could not remember ever being left completely alone like this.
She took three Oreos from the kitchen, turned on the little black- and-white TV in the first-floor den, and settled in contentedly to watch 'The Mike Douglas Show'. The Jackson 5 was on the show that day (Miranda would always remember this detail) and she luxuriated in the fact that Alex and Jeff were not there to change the channel to 'The Three Stooges' or some stupid cartoon. At four, when 'Mike Douglas' ended, she turned off the TV and drifted around the house. In the quiet, it was easier to notice the house itself. Empty, it was not Miranda's home; it was just a building that, for now, her family happened to occupy. The house was eighty years old, very boxy and plain, with four flat, featureless sides, unlike the many grander wedding-cake Victorians in the neighborhood. Every surface had the patina of years, of human touch—the dark wood, the tarnished brass hinges and knobs, the wavy horsehair-plaster walls. The very age of the house prompted a troubling idea: Other families had lived here, had passed through the house. Other children had stood on these same chipped, creaking bird's-eye maple floors. And other families would occupy it after the Larkins were gone too.
The empty house made little breathing noises. The radiators knocked as they filled with steam, the pipes creaked inside the walls as they expanded and contracted, the boiler thunked on and off in the basement.
She shuffled into her parents' bedroom, crossing the usual borders. On Dad's night table there were only three objects, a Sony digital clock with little hinged cards that flipped to show the time, a copy of 'Newsweek,' and a Horatio Hornblower novel with a sailing ship on the cover. Miranda opened the night table drawer, peered at the few neatly arranged things inside: a small box of Kleenex, a tube of cream, a few magazines turned facedown. Miranda turned the top magazine over. It was 'Penthouse'. The glossy cover showed a woman in soft focus with her naked back to the camera. The model looked over her shoulder with a blank expression. Miranda studied the magazine cover, wishing she hadn't seen it, then replaced it precisely and closed the drawer.
In a high chest where Dad kept his clothes, there were stacks of dry-cleaned shirts, all folded and wrapped in plastic bags. She opened his closet, where business suits were arrayed neatly on matching wood hangers, grouped into blue suits and gray suits. His wingtip shoes were lined up on the floor, cedar shoe trees in all of them, black shoes and brown shoes and oxblood shoes.
On her mother's dresser was a wedding photo from seventeen years before, Dad in a short haircut, Mom in her white gown, hair piled high on her head like a top hat, both of them smiling. Miranda opened her mother's jewelry box, looked inside it. On a silver tray were coins, mascara, lipstick, a small tub of blush, and an irresistibly soft makeup brush. A Mason Pearson hairbrush with Mom's hair snarled in the bristles. An open pack of Larks (red with silver foil) and a ceramic ashtray filled with cigarette butts marked by her lipstick. Miranda swirled the makeup brush on her cheeks, nose, and forehead to feel its sensuous bloom of soft bristles.
By 4:30 daylight was faltering, the house became gloomy, and Miranda got very worried very quickly.
She considered calling her father at work. His office number was in the kitchen, in the address book. But Miranda had never called his office before and she was too shy to try it now. Who would answer the phone? How would she ask for her dad, what would she call him? "Mr. Larkin"? "Dan"? Anyway, he was at work, and Miranda understood, without ever having been told, that she was not to disturb him during the workday. Mom and the three children regarded Dan Larkin's work with reverence. The Law—that was what her mother called it— was demanding, abstruse, noble. No one in the family ever spoke cynically about it, except Dan himself.
There was no trusted neighbor or friend Miranda felt comfortable calling, either. Her parents had few friends, and none of those adults penetrated the Larkins' circle.
There was Grandma Lil, but she would surely overreact and rush right over in a flutter, when the truth was Miranda did not even know whether there was a problem.
There was Grandma Mildred, too, but that was much too scary an option.
So she waited. What else could she do? In the deepening gloom, Miranda turned on a single lamp in the little den on the first floor, and in the shelter of that warm light, she read 'Sounder,' determined not to look up from her book until her mother got home. She was a good reader, but that day it was difficult. In the back of her mind, an idea tugged at her attention—as sometimes a stray thought will distract you from a book—that it was possible her mother would never come home again.
Forty years or so later, when Miranda described this part of the story, in her cluttered studio, she paused here.
"Isn't that weird? Why would I think my mother was gone forever? It's like I already knew."
(continued on Thursday)
Love this book? Share your review with the Publisher