Pocket Stew
(Tiffany, on the book club staff, recommends this quick and easy recipe.)

"You throw all of the items in tin foil, wrap it up and you can cook it in the oven, or put in on the grill. Of course in true western fashion--over a campfire!"

You can use a hamburger patty or a chicken breast. Cut up some potatoes and add your favorite vegetable--corn, peas, green beans, etc. On top put about three of tablespoons of your favorite soup--tomatoes, cream of celery, etc.

Salt and pepper to taste and close up the foil and cook for 1 hr at 375 degrees or grill till done. It is a quick and easy meal. Best of all no dishes to clean up afterwards. Just toss the foil.
Suzanne's Western Beef Stew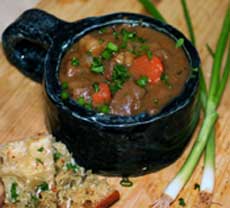 Part of this recipe can be made up to 2 days ahead of time.
1 1/2 pounds beef for stew, cut into 1/2 inch pieces
1 tablespoon shortening
1 1/2 cups water
1 can (10 1/2 ounces) condensed beef broth
1/8 teaspoon pepper
Dash of garlic powder
Dash of savory
Dash of thyme
Have ready to add 50 minutes before serving:
2 large potatoes, cut into 1 1/2 inch pieces
3 medium carrots, cut into 1 inch pieces
2 medium stalks celery, cut into 1 inch pieces
1 tsp salt
1 bay leaf
1/2 cup cold water
2 tablespoons all-purpose flour
Cook and stir beef in shortening in a 4 quart Dutch oven until brown, about 15 minutes. Add 1 1/2 cups water, the broth and pepper. Heat to boiling; reduce heat. Cover and simmer until beef is tender, 2 to 2 1/2 hours. Cover and refrigerate no longer than 48 hours.
Or to serve same day. . .
About 50 minutes before serving, remove fat from broth. Add potatoes, carrots, celery, onion , salt, bay leaf, savory, thyme and garlic powder. Heat to boiling; reduce heat. Cover and simmer until vegetables are tender, about 30 minutes. Shake 1/2 cup water and the flour in tightly covered container; gradually stir into beef mixture. Heat to boiling, stirring constantly. Boil and stir 1 minute. Serve.
Spicy Beans
(This is from Valerie, who is on the book club staff. This is her father-in-law's favorite recipe.)
"He's a great cook! He likes to fix these to go with grilled steak-- especially when camping. The longer you cook them--the greater the spice!"

1 pound black beans
1/4 pound bacon, chopped
5 medium garlic cloves, minced
2 medium celery stalks, minced
1 large carrot, peeled and diced
1 medium onion, diced
1 jalapeno chili, seeded and minced
1 bay leaf
1 Tablespoon chili powder (New Mexico if you have it)
1 teaspoon ground cumin
1 teaspoon cayenne pepper
1 teaspoon white pepper
8 Cups chicken or beef broth

Soak uncooked beans in water for 24 hours. Drain. Transfer to a
large saucepan, boil for 20 minutes and drain.

Cook bacon in heavy, large saucepan over medium hear for about 5 minutes until golden brown. Mix in celery, carrot, onion and jalapeno chili. Cook until vegetables are tender, about 10 minutes. Add garlic at the last minute so that it does not burn. Add spices and stir until aromatic, about 1 minute. Add beans and broth. Simmer until liquid is absorbed and beans are tender, approximately 30 minutes.