(Column from July 2, 2020)
Dear Reader,

Spending so much time at home the past few months, has inspired me to "tackle" a different drawer in my house every day. Some of the drawers I haven't opened for a long time and when I see what's inside, the decision to "give it away" is an instant one. 'Why did I even buy this thing? I forgot I even owned it.' But yesterday, when I opened one of my drawers, I realized I'd kept what was inside because I didn't know how to let go

When my parents were still alive, every time I went to visit them, shortly after I arrived, my mother would remind me where the important papers were (in the refrigerator in a bank pouch), and then she'd point to the 'Wizard of Oz' plates on the living room wall and tell me that when she died, those plates 'better not end up on a garage sale table.' Then we'd walk into the kitchen, and Mom would point out a crock that she didn't use. "This is mine. Your Aunt Inez's kids might say this belongs to their mother, but it doesn't. Don't give it to anyone." And finally after we got the death tour out of the way, we could sit down and have lunch. Holding on tight to 'Wizard of Oz' plates and a crock that wasn't ever used, these are the memories I am left with.


On one of my visits to my parents, I discovered this quilt I'd made for my mother. I'd picked out material I thought she would love and as I was sewing it, I kept thinking how pleased she would be. But now there it was, the quilt I'd made for her was wadded up on the floor in the corner of the garage. I couldn't bring myself to say anything, but after my mother died I rescued my quilt, and I've kept it in a drawer ever since. I tried to use the quilt once, but I couldn't because it reminded me of my mother. But today, I'm thinking that it's time to clear out this drawer and let go of the pain and toxic memories.

It's a lovely quilt, and yes indeed, it looks beautiful on my bed. I'm so proud of myself. I finally emptied out of the drawer and filled the space with love.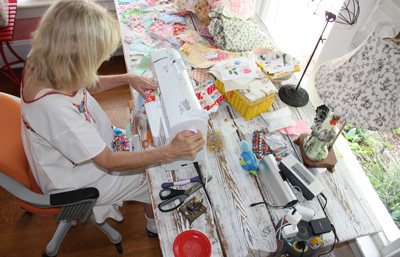 My quilting style has changed drastically over the years. When I first started sewing quilts on the machine, I used the familiar squares, but then one day I sat down and started sewing bits and pieces of material together, and I've drifted into a "little-bit-of-this-a-little-bit-of-that" quilting style. It's very relaxing, because there isn't any preconceived pattern in my mind when I begin, I simply sit down, start sewing and it's a mystery until the end.
That's tuxedo Barry who's always ready for the spotlight. He's sitting on a quilt I'm currently working on.