Red-Skinned Potato Salad with Dijon Mustard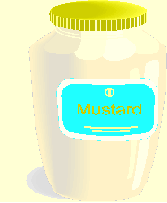 1/3 cup Dijon mustard
1/4 cup dairy sour cream
1/4 cup mayonnaise
2 pounds small red-skinned potatoes, cooked and quartered
1 large tomato, seeded and chopped
4 slices bacon, cooked and crumbled
4 green onions, chopped
In large bowl, blend mustard, sour cream and mayonnaise. Gently stir in potatoes, tomato, bacon and green onion. Cover and refrigerate overnight.
Crispy Chicken Dijon
4 boneless, skinless chicken breast halves
all-purpose flour--enough to cover the chicken breasts
Honey mustard or Dijon mustard
Italian bread crumbs
2 tablespoons vegetable oil

Rinse chicken;pat dry. Coat ckicken with flour, saking off excess. Spread chicken with mustard, then roll in bread crumbs to coat evenly.
In large skillet, over medium heat, brown chicken on each side and finish cooking either in the pan, or put in a 350 degree oven until done.
Savory Beef Stew
1 1/2 pounds beef stew meat, cut into 1-inch pieces
2 tablespoons all-purpose flour
2 tablespoons vegetable oil
2 medium onions, sliced
1 (14 1/2-ounce) can beef broth
1 (10-ounce) package frozen mixed vegetables
1/3 cup Dijon mustard
Coat beef cubes with flour, shaking off excess. In large heavy pot, over med-high heat, brown meat, half at a time, in hot oil. Return all meat to the pan.
Add onions and beef broth. Heat to a boil; reduce heat. Cover; simmer for 45 minutes. Stir in frozen vegetables, return to a simmer. Simmer, uncovered, for 30 minutes more or until meat is tender. Stir in mustard; heat through.