May Cookie Winner
Let me introduce you to May's Chocolate Chip Cookie winner, Linda Clutz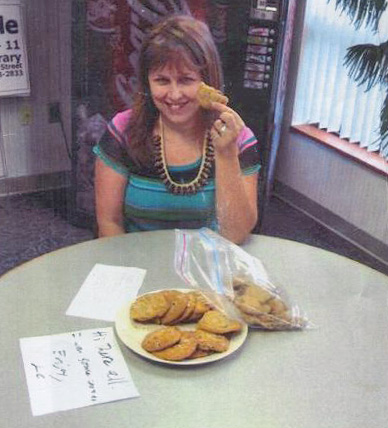 Hello there Suzanne,

Here are the top ten reasons I would love to win the chocolate chip cookie contest:
I work with a great staff, and would love to share the calories with them all!
Rosalyn's Bakery has gone out of business in our area…we miss our sugar fix!!
I love celebrating the culinary arts of another fellow cookie enthusiast- just give me a chance, and I know I'll come through with flying colors.
I gave up chocolate, but it doesn't count if it's in a cookie.
When I was five, I asked my mom if I could have a job. She gave me some suggestions, and then I told her, "I mean an eating job!" Truly, those are among the jobs I am best at.
I didn't get any cavities at my last dentist appointment! Preventative resins are a wonderful thing. So you know all that sugar won't hurt me. (My other co-workers will be happy to eat them at their own risk, of course.)
Eating cookies is much better than tossing them.
At ten years old, I got my hair caught in an electric mixer when my mom was making cookie dough. It took her 45 minutes to untangle the beaters out of my hair. Winning your cookies may help erase the trauma of those memories!
I have a special recipe I want to make, but it requires two dozen of your cookies.
I can't think of any arguments against winning your cookies! After all, it's so good to eat with friends as well as read with them.
Thanks, and here's hoping I win,
Linda Clutz.