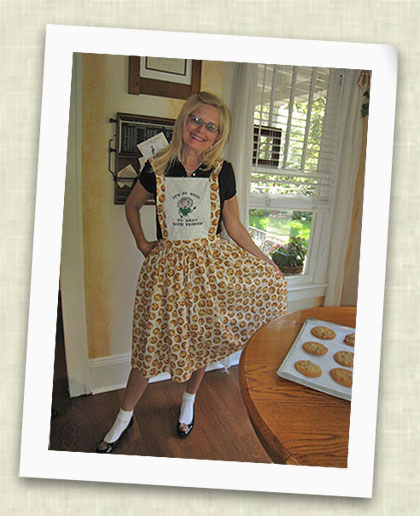 Dear Reader,
I was overwhelmed last week when I opened the package that Lynn Gray and Mauvice Murphy sent to me. The letter from Mauvice said: "Lynn and I belong to a sewing group called Sew-n-Tell. It's the informal gathering each Monday of a group of women, (the Round Barn Quilters) and we meet in Marshfield, Wisconsin. We sew, we talk and almost everyone is a reader in our group. The sewing involves personal projects, but also benevolent sewing: lap robes, neo-natal quilts, chemotherapy hats and pillows, along with quilts for families who've lost their home in a fire. Two years ago we made 94 patriotic wall hangings that went to the families of our local National Guard Unit that was sent to Kuwait.
Lynn and I sit next to each other at our sewing group and we both enjoy reading your column. We speak of you as if you were a neighbor, or a long time friend who has moved away. Since in our minds, we have established this affectionate relationship with you, we collaborated on making a couple of items we think you might enjoy. Lynn did the embroideries It's so good to read with friends, then I made the apron out of chocolate chip cookie fabric (what else could it be?) and I made the notebook cover, too. We certainly hope you enjoy them and that you'll think of your faithful readers in Wisconsin!" —Mauvice Murphy and Lynn Gray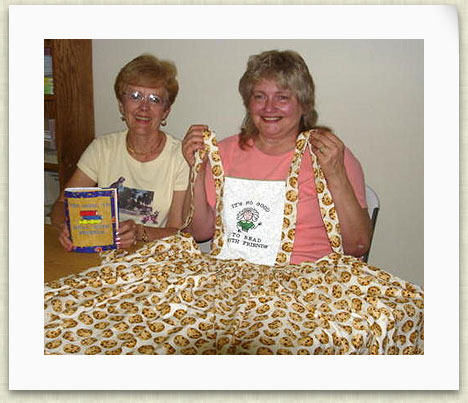 Book club readers Lynn Gray and Mauvice Murphy.
Mauvice and Lynn, I know I've already thanked you, but I must say thank you again, because I know how much work it takes to sew something. Your kindness and thoughtfulness have left this writer speechless, so I'm going to bake and send a batch of cookies your way.
Photos of some September's cookie winners, click here.