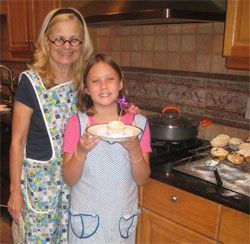 Satisfied Cookie Winners!
Here are recent winners of cookies. To enter this month's Chocolate Chip Cookie Giveaway all you need to do is give me your name and address, in case you're a winner, and promise to send me a photo of you eating the cookies. It's as simple as that. Click here to enter.
The photo on the right? That's me and my friend nine-year-old friend Meghan, baking muffins.
Thanks for reading with me. It's so good to read with friends.
Suzanne Beecher