Enter Today's Cookie Scoop Giveaway
The Chocolate Chip Cookie giveaway takes a break over the summer, but you can make your own using the same cookie scoop I use. Enter today's giveaway by completing the form
at the bottom of this page.
Suzanne's Chocolate Chip Cookies

When it's time for one of my Chocolate Chip Cookie giveaways, I always get emails from readers wanting to know what makes my cookies taste so good. One reason is that even if you're a baker yourself, it's a real treat to have someone else bake for you. My cookie recipe isn't really very different from the Toll House Chocolate Chip Cookie recipe, other than a couple of extra little additions.

I use real butter, real vanilla--basically the finest ingredients that I can find--and the two cups of chips are heaping. I also use cold butter (very cold, so I have to chop it up), and I freeze the cookies as soon as they cooled, after coming out of the oven. When you freeze the cookies, the chocolate sets and it doesn't melt as easily when you take them out of the freezer. Also, I think the freezing process gives the cookie a different feel. Makes for a great "dunker".

I enjoy baking cookies and giving them away, and I think that's why they're such a hit with folks. I try to put a little love in every bite. I really do.

Chocolate Chip Cookies

Makes 36 cookies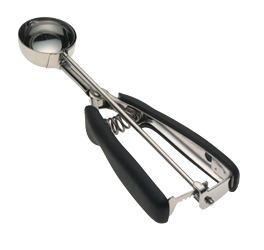 2 sticks butter (make sure the butter is cold; slice it up before mixing)
3/4 cup brown sugar
3/4 cup granulated sugar
1 overflowing tsp pure vanilla extract
2 eggs
2 1/4 cups flour (plus an additional tablespoon if your kitchen is warm, or it's very humid outdoors)
1 tsp baking soda
1 tsp salt
2 overflowing cups good-quality chocolate chips

Beat together butter, brown and granulated sugars, and vanilla. Add eggs and combine well. In another bowl, mix together flour, baking soda, and salt.

Add flour mixture to butter mixture. Beat well. Add chocolate chips. Mix on low speed till just combined. Drop by teaspoons onto parchment-lined baking pans. Bake at 375 degrees for 10 to 12 minutes, until light golden brown.

Cool cookies on counter, then freeze immediately. I put the cookies into freezer bags. Freezing the cookies is an important step because it sets up the chocolate. When the cookie is thawed the chocolate stays firm.
Bake two batches, and give one away.
Cookie Winner
Munching and dunkin' my chocolate chip cookies, Russ is one happy cookie winner.
Hi Suzanne,
They arrived yesterday and are absolutely glorious. My wife is extra excited because she usually bakes 100 dozen cookies for family and friends at Christmas and now she gets to experience Suzanne's. Thank you. I have attached a few snapshots of me in bliss. —Russ