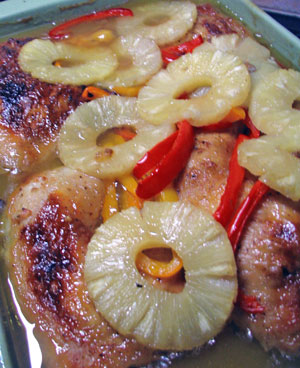 Chicken Waikiki Beach

1. Preheat oven 350 degrees.

2. Assemble ingredients to brown chicken.

2 whole chicken legs and 2 whole chicken breasts
1/2 cup flour
1/3 cup salad oil or shortening
1 teaspoon salt
1 teaspoon pepper
1 large red pepper cut up into thin slices

3. Dredge chicken in flour and salt and pepper mixture. Or put the flour and seasonings in a Ziploc bag, add the chicken and shake. Then brown chicken in oil on both sides. Remove from frying pan and place skin side up in shallow baking pan.

4. Make sauce:

1 can (1lb. 4 oz.) sliced pineapple
1 cup sugar or 3/4 cup (I use the smaller amount)
2 tablespoons cornstarch
3/4 cup cider vinegar
1 tablespoon soy sauce
1/4 teaspoon ginger
1 chicken bouillon cube

Drain pineapple, pouring syrup into 2 cup measuring cup. Add water to make 1 1/4 cup.

Combine sugar, cornstarch, pineapple syrup, vinegar, soy sauce, ginger and bouillon cube. Bring to boil, stirring constantly. Boil 2 minutes and then pour over chicken.

5. Bake uncovered for 30 minutes.

6. Place pineapple slices and red pepper on the chicken. Bake another 30 minutes longer or until chicken is tender.

7. Serve over rice.

8. Get compliments.

9. Tell your guests about your online book club.
Thanks for reading with me. It's so good to read with friends.
Warm regards,
Suzanne Beecher