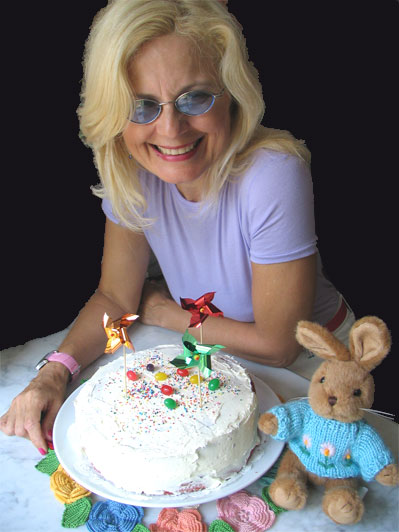 Things don't always turn out like I planned. But that's okay,
I'll get it right next time. Let me know if you try the cake. Thanks for reading with me. It's so good to read with friends.
Warm regards,
Suzanne Beecher
Suzanne@emailbookclub.com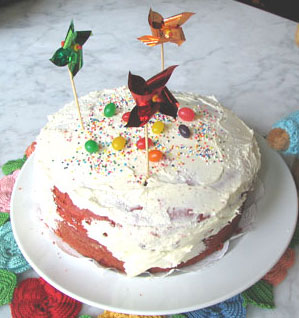 You need to split the two, 9-inch cake rounds in half and put frosting in-between them, too. I didn't in this picture, because after after I filled in the "ski-slope" on one of the cakes, I knew I wouldn't have enough frosting to do the sides. Another way to frost this cake is to put the frosting in-between the four layers and leave the sides without frosting. The red color makes the sides of the cake stand out.
Grandma Hale's Red Velvet Cake
1/2 cup shortening
1 1/2 cup sugar
2 eggs
2 ounces red food color
1 tsp. real vanilla
2 Tablespoon unsweetened cocoa
1 cup buttermilk
2 1/2 cup cake flour
1 Tablespoon vinegar
1 teaspoon baking soda

Cream 1/2 cup shortening, 1 1/2 cup sugar, and 1 tsp. real vanilla together.
ADD: 2 eggs, one at a time and beat.
Make a paste of 2 oz red food coloring and 2 Tablespoons unsweetened cocoa. ADD the paste to the sugar mixture. Mix.

Sift 2 1/2 cup cake flour and 1 teaspoon salt together.

Mix the flour mixture into the sugar mixture, alternating with the buttermilk. Beginning and ending with the flour mixture..

Combine, 1 Tablespoon vinegar and 1 teaspoon baking soda. Add to the batter.

Bake in 2-9-inch round pans. 40 to 50 minutes or until done in a 350 degree oven. Split each layer when cool.

FROSTING

5 Tablespoons flour
1 cup milk
1 cup sugar
1 teaspoon real vanilla
1 cup butter

Cook flour and milk until thickened. Let stand until almost cold. Cream sugar and butter and vanilla until fluffy, and add to flour and milk mixture and beat until fluffy. (Grandma always tinted the frosting pink.)