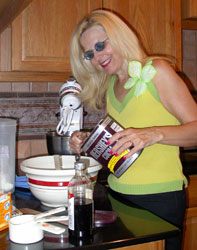 Hershey's Disappearing Cake
1/4 cup (1/2 stick) butter or margarine, softened
1/4 cup shortening
2 cups sugar
1 teaspoon vanilla extract
2 eggs
1-3/4 cups all-purpose flour
3/4 cup Hershey's Cocoa
3/4 teaspoon baking powder
3/4 teaspoon baking soda
1/8 teaspoon salt
1-3/4 cups milk
Heat oven to 350 degrees F. Grease and flour 13 x 9 x 2-inch baking pan.
In large mixer bowl, beat butter, shortening, sugar and vanilla until light and fluffy. Add eggs; beat well.
In separate bowl, stir together flour, cocoa, baking powder, baking soda and salt; add alternately with milk to butter mixture, blending well. Pour batter into prepared pan. Bake 35 to 40 minutes or until wooden toothpick inserted in center comes out clean. Cool in pan on wire rack. Frost as desired.
Enjoy the cake!
Thanks for reading with me. It's so good to read with friends.
Suzanne Beecher
Suzanne@Emailbookclub.com
P.S. I'd recommend opening a can of your favorite chocolate frosting, so you start eating this cake as quickly as possible.